The purpose of this page is to honor all veterans......especially those with Whitley County Connections....

Please be patient, I love graphics and these take a few seconds to load......
Click Here for a special 1999 Veteran's Day Message


| | | | | | |
| --- | --- | --- | --- | --- | --- |
| | Denotes Medal of Honor Winners | | Denotes Killed in Action | | Denotes POW/MIA |

Revolutionary War Veterans
| | |
| --- | --- |
| Zachariah Davis | Pierce Dant Hamblin |
*biographical information for Revolutionary War Veterans

War of 1812
*biographical information for War of 1812 Veterans

| | | |
| --- | --- | --- |
| | Civil War Veterans | |
Henry H Anderson USA
Edward F. Arthur CSA
William P. Black USA
John Harties Brown USA
John H Callahan USA
James D. Case CSA
J. A. Cooley CSA
John Davis USA
Paulser Debusk CSA
Thomas Earls USA
Daniel L. Ferry
John R. Frost
James A Harmon USA
Wiley Hayes CSA
William L. Heath CSA
William H. Horsfall USA
Aaron R. Hudson USA
Oliver Hughes USA
William C. Lynch
Garland Laws
Henry B. Mattingly USA
William L. McCann CSA

Francis M. McMillen USA
Hugh Miniard CSA
Archibald Mitchell CSA
William T. Morris CSA
Jefferson C. Myers CSA
Daniel Noble USN
Ephraim Osborn CSA
Andrew L. Roden CSA
John S. Robinson CSA
Oliver P. Rood USA
James R. Smith CSA
William Steinmetz USA
Dr. Joab Travilier CSA
Mary E. Walker (Civ)
William Watkins CSA
R. B. Wells CSA
John F. Weston USA

*biographies for Civil War Veterans

| | | |
| --- | --- | --- |
| | Spanish American War Veterans | |
Frank Davis
Benjamin F. Hardaway

James J. Nash
*biographies for Spanish American War Veterans

World War I Veterans
| | |
| --- | --- |
| Milton Milford "Red" Criscillis, Sr | |
| Maurice Edward Nash USA | |
*biographies for World War I Veterans

World War II Veterans
Ulys G. Adkins Jr.
Robert Edward Allwine Jr. USA
Steve ( Joe ) Bryant USA
Harold Adrian Brassfield USAAF
Lloyd Campbell USA-AF
George Calvin Criscillis, Jr USAF
Milton Milford "Buddy" Criscillis, Jr USA
Ernest "Pete" Collingsworth, USN
Charley Maynard Cornelius USN/USA
Earnest Hoyt Earls USA
Arlis Terrell Hart USN
Paul Glenn Hart USN
Walter D. Hart USN
Willard L. Hart USN
Frank William (Billy) Hudson
Patrick J. Kelly
Edward B. Pemberton USA
Ernest Lee Richmond USN


Korean War Veterans
Robert Edward Allwine Jr. USA
Charley Maynard Cornelius USN/USA
Arlis Terrell Hart USA
Troy Wayne Hubbard
Jerome Richmond-USN


| | |
| --- | --- |
| | Vietnam War Veterans |
Robert E. Allwine Jr. USA
Joe Steve Bryant,Jr.
Benny Giles Carr USA
Wendell M. Carr
John Michael Cole USAF
David T. Durham USMC
Gary Earnest Earls USA
Larry Allen Earls USMC
Robert E.Gray USA
Gleason Cay Helton USA
Vernon Franklin HART M.D. USA
Gary E.Holtzclaw USMC

J. Clifford Jenkins USA
Freddie D. Lawson USA
Ronnie Lawson USA
David Lee Miles USA
Glen E. Rountree USA
Billy Ray Sargent USA
Jackie E. Trosper USA
Douglas M. Wetmore USA
Larry S Wright-USA
Garry L. Wright-USA
Floyd Wynn USA

| | |
| --- | --- |
| | Gulf War Veterans |

Daniel Joe Bryant, SPC
born: June 22, 1976
Parents: Joe Steve Bryant,Jr.
Enlisted: Nov. 1995
1st Calvary B-Btry 4/5 ADA
Kuwait Sue Bryant bryant@tcnet.net

*biographies for Kuwait Veterans

Those who Served
Gordon Walter Earls
Harry Scott Earls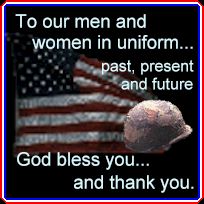 Please send the information on your vet to us: e-mail to ....Gary and Becky at beegee@abraxis.com
If possible we would like to have :
Name of Veteran
Connection to Whitley County (not required to be placed on page)
Years of Service
Branch of Service
Unit information
Any biographical information you would like to include
You don't have to have all the information to add a name....if you know they were a vet, please add them to the list.
Your name, e-mail address, and snail mail, if you are willing to include that for posting. We recommend that you include your snail mail information for folks who do not have access to e-mail.

From Ron's page
Bronze Star Medal
Purple Heart Medal
Prisoner of War Medal
U.S. Army Good Conduct Medal
American Campaign Medal
Europe-Africa-Middle East Service Medal
World War II Victory Medal
Korean Service Medal
U.S. Vietnam Service Medal
Southwest Asia Service Medal
Vietnam Campaign Medal

Some of the graphics on this page were furnished by Ron Fleischer Visit Ron's page to see more of his wonderful Graphics
THANKS RON
Click on POW/MIA Stamp to
e-mail Ron Fleischer and thank him for all his hard work.

Want to make a difference go to Operation Just Cause. Once you have the information on your POW/MIA please e-mail us the information so we can add it to the page.

Other links for veteran tributes:

This page last updated November 23, 2003
©1998,1999,2000,2001,2002,2003 Gary and Becky Earls: 6499 Sinclair Place Morrow Georgia
all rights reserved